I am super excited to launch UNPOSED for so many reasons. The main reason is that I am pumped to get to know your kiddos' true personalities. You know, the ones you love and adore so much!
Like you, I have experienced that "freeze and cheese" affect that the camera has on our kids. The one that makes them clam up and not smile that super cute smile that we all love. The one that makes them morph into someone else's child who we don't know. I long to capture their faces, expressions, quirks, toothless grins, big milestones and all those things that make up their personality! And I want to do it in a way that is contemporary, simple, unfussed and UNPOSED.
I started thinking, we dislike those studio sessions because they are so stuffy and they make us sit down just "this" way and smile "that" way, ways that are completely unnatural. They leave no room for us to be ourselves! So, with that in mind, I've decided to take the stuffy studio sessions and kick them out the door, giving room for something completely fun, fresh and a safe place for your kid to go crazy! These sessions are perfect for capturing milestones, getting updated sessions, or just for celebrating who your child is right now.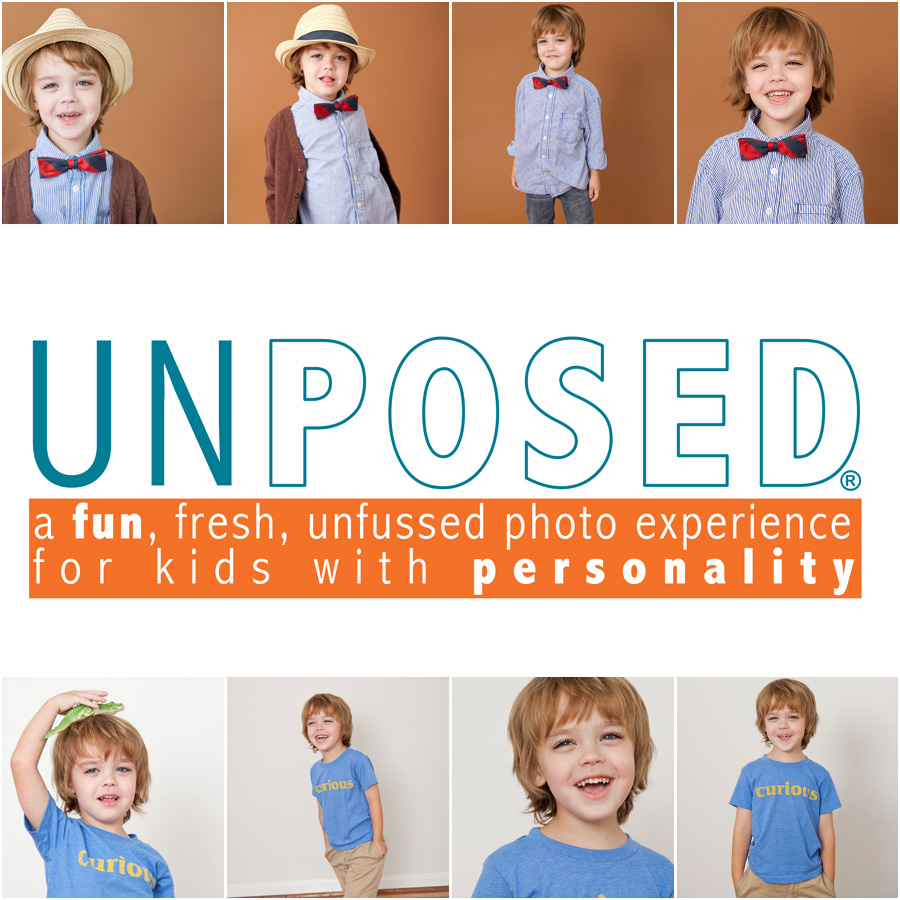 What is UNPOSED?
Simply put, UNPOSED is a photo experience to capture your child's true personality. The 25 minute in-studio session is full of fun & music & laughter. A place where your child can feel free to just be who they are, dance, be a superhero, a princess or eat a cupcake (who doesn't love cupcakes?!). With simplified backdrops, we've taken out the clutter to put the focus back on your child. The UNPOSED experience has it's own exclusive pricing menu that is not available with any other session. Take a look at the pricing information below or call the studio at (832) 671-0250 to book an UNPOSED session for your child!
The UNPOSED creative fee is $75.
This fee covers my time and talent of both taking the photos at your session as well as editing the images.
Additionally, this fee covers hosting the images in an online password protected gallery for 3 days.
Because I know you want options, I've created a simple menu with both Digital and Print offerings. Please see below!
Digital Collection 1 | $550
This collection includes 12-15 fully retouched and enhanced Digital Images. Images are printable up to size 8×10 with full reprinting rights. These are delivered to you via password protected digital download.
Digital Collection 2 | $325
This collection includes 5 fully retouched and enhanced Digital Images. Images are printable up to size 8×10 with full reprinting rights.
These are delivered to you via password protected digital download.
Prints
$30 Small (4×6, 5×7, 8×10)
$50 Medium (8×12, 10×10, 11×14)
$125 Large (12×18, 16×20, 16×24)
$185 X-L (20×24, 20×30, 24×30, etc)
Products
$400 8×8 Custom Created Book
$200 Custom Collage Print (9 images)
+ $100 for canvas
Additional Session Information:
* All Creative Fees include photographer's time, talent, basic post-processing and enhancement of images and approximately 25-30 presented in an in-person ordering session at Christie Lacy's studio in Cypress, TX.
* While Digital Images are offered, please understand that Christie Lacy holds the original copyright to all of her images. Images may not be manipulated in any form without express written consent from Christie Lacy.
* Creative fee does not count toward print purchase.
* Creative fee does not include any digital images.
* Your non-refundable creative fee for your session is due at the time of scheduling your appointment. This
guarantees the time and date allotted for you.
* All sessions require a signed model release.
* All sessions are on-location. Studio sessions are available for newborn sessions with advanced notice.
* A $65 travel fee is required for all sessions outside of Cypress, Texas (unless otherwise noted).
* Pricing subject to change at any time, however your pricing will be locked in at the time of booking your session.  7.25% sales tax is required to be collected on all orders.
Please contact the studio for additional products you might be interested in!