Crowd's stress me out. Maybe it's the energy, the loudness, the chaos, but I can't handle it! This weekend was the Annual Greek Fest held every Spring. Last year we went, but we must have gone on a slow day because there wasn't anyone there! Sunday, it was packed. We could hardly find a parking spot and, well, I don't know about you, but taking three kids to an event where there are so many people you fear you'll lose one, well that's not my idea of fun. My husband says I should relax, but, man! So, all that said, I'll admit I lost my cool a bit while we were there for all of 45 minutes.
So, to make up for it, I decided to drive across town to Houston's favorite Snoball place, Mam's House of Ice. I'll be honest, I was a bit skeptical. I mean, how can a snoball place have so many raving reviews? Could it really be THAT awesome? In a word, yes. After the 30 minute wait in line, we delighted in a snoball with ice so fine, it was as if it were sorbet. Sadly, Mam's is a good 30 minutes from our suburban home. Fortunately, I don't think the kids can really tell a difference between this and Mr. D's. At any rate, when we are venturing around the Heights, Mam's is surely one of the places that will be on our list of stops!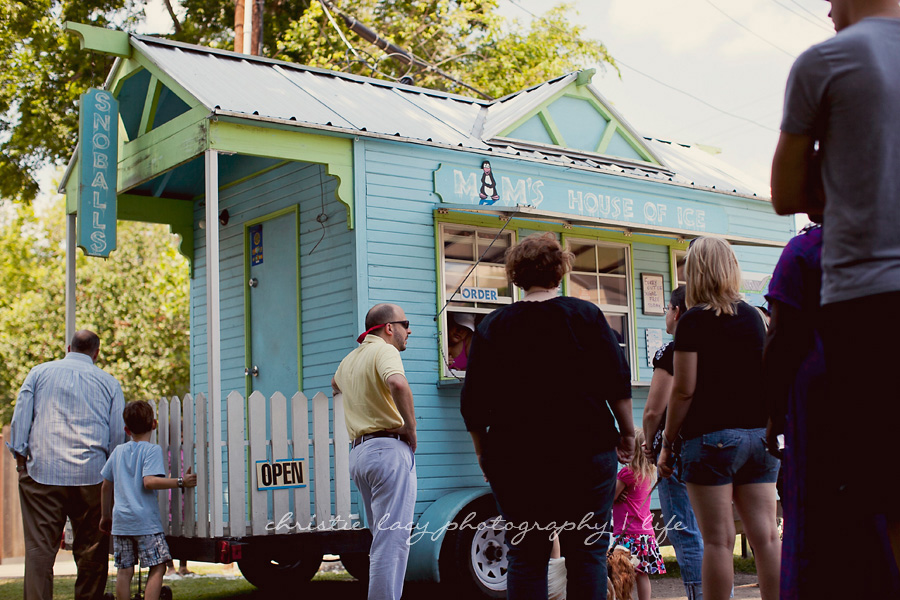 The line was a good 30 minutes…then there was probably another 5-7 to get our snoballs. Andre was waiting like a champ.