Do you have a nice big fancy and expensive camera. Maybe it was given to you as a gift, maybe you bought it with intentions of taking more and better photos of your kiddos. And then you opened it up, thinking your photos would turn out noticeably better. But when you finally put it up to your eye, it just wasn't so. And you're frustrated because you have this awesome tool and just don't know where to go from here. And so there it sits, in the bag, in the corner.
That was me 6 years ago. I spent a bunch of money on this great big camera. And the second I opened it, I became intimidated and frustrated. I mean, it should work better! I spent a lot of money to get a camera that would work better. Luckily, I had some awesome people who helped me along the way.
So here I am, to help you! After a few years of friends and clients asking,  I'm happy to offer new workshops for people just like you who want to just take better photos of their kids. I want to help you capture the memories that really matter to you in a way that you'll be proud to show off to your family and friends, but also keep beautiful photos for your kids when they're grown!
This workshop is designed for the beginner photographer. Introducing you to the basics of photography, you'll walk away from this workshop with a good understanding of exposure, creative picture taking and a couple tips and tricks to get you practicing and executing the skills you've learned. I can't wait to see your transformation!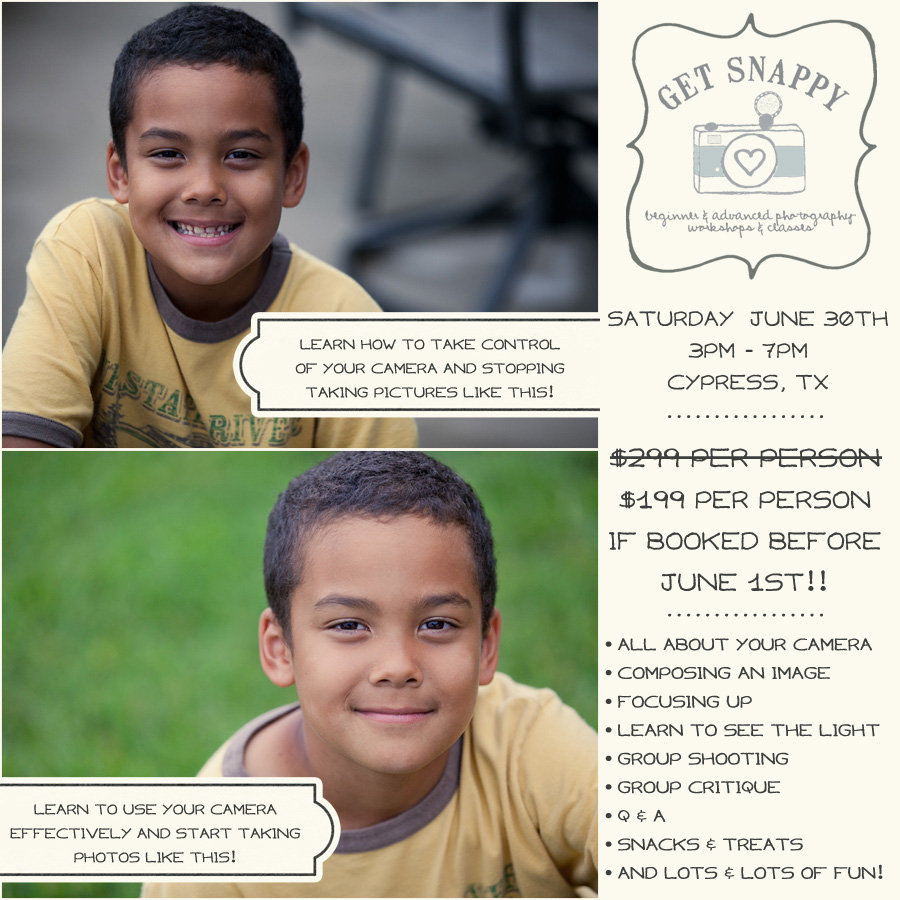 Current Class Availabiliy:
Saturday June 30, 2012  3PM – 7PM (5 seats available)
Saturday September 08, 2012  2PM – 6pm (10 seats available)
Saturday November 10th, 2012  1PM – 4PM (10 seats available)
What you'll learn and what we'll do:
How to use your DSLR camera and it's main modes of shooting.
Intro to Exposure: Aperture (f-stop), Shutter Speed, ISO, and how they all work to make up the equation of exposure.
Intro to Lighting: How to use it to your favor. We'll also go over lighting conditions (indoors vs. outdoors, etc)
Intro to Creativity: Rules on composition. How to start seeing creatively and what to look out for when taking photos.
1 hour of shooting time after you've learned your camera, either outdoors or in-studio.
30 minutes of group time to critique your images (if you choose). We'll break down the images to show you what you can work on.
Light refreshments, breaks and fun provided.
What this workshop isn't:
This is not a business workshop. If you are familiar with your DSLR camera and are well on your way to creating your own business, this workshop is not for you.
We won't go over editing images at this time. It's always been my goal to get it right in the camera first so that your editing time is as little as possible. So we'll focus on photography and getting the best images without editing. It's possible that there will be an intermediate level workshop in the future where this will be addressed.
A photographing frenzy! This workshop is limited to only 12 people per workshop, so we won't have the inconvenience of having too many people and too many voices. Limiting the workshop allows you to feel comfortable in having your questions answered and the opportunity to have a bit of one-on-one time.
This workshop is not an advanced intense workshop on learning advanced lighting techniques, posing strategies, etc.
A class about your specific camera. While we'll be learning how to use your camera to take better photos, we won't go into great detail about each individual camera! Please be sure to read and bring your manuals!
To book your session, please log-in to our store and select 'The Shoppe' > Get SNAPPY! > and select the date of your choice.
Please understand these seats are first-come, first-serve. Once filled, this information will be removed. Classes are held in Christie's studio in Cypress, TX (northwest of Houston). Gift Certificates Available, call Christie to make arrangements.