I can't believe there are only a few more weeks of summer left before school starts! Before you know it, we'll be welcoming in winter. As I've already booked all but two sessions in October, I thought I'd get my Sixth Annual Holiday Mini sessions out to you. When I started counting it up, I could hardly believe that so much time has gone by. 6 years of photographing your awesome families!
These Mini Sessions are such a great way to share and gift your family photos. I'm offering only digital images so that you can print as many as you like, share as many as you like, and showcase as many as you like in your homes. Add to that, I'll upload one of your images to my press printing affiliate where you'll be able to select from hundreds of amazing designs and top quality products.
So, here are the details: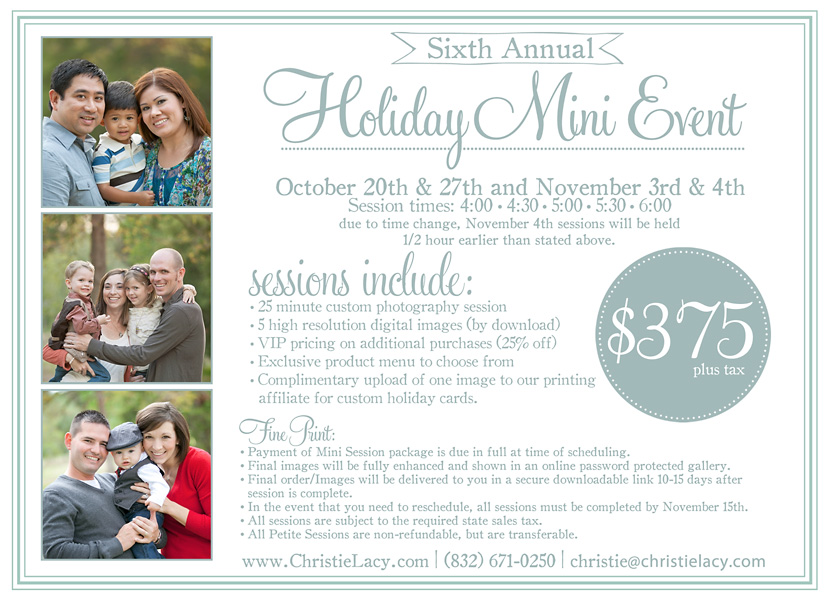 now, for the fine print:
Payment of Petite Session package is due in full at time of scheduling.
10 images will be fully enhanced and shown in an online, password protected gallery.
Final order/Images will be delivered to you in a secure downloadable link 10-15 days after session is complete.
In the event that you need to reschedule, all sessions must be completed by November 15th.
All sessions are subject to the required state sales tax.
All Petite Sessions are non-refundable, but are transferable.
Ready to sign up? the dates and times are available here!
Saturday October 20th Cypress location (tba)
(times available: 4:00, 4:30, 5:00, 5:30, 6:00)
Saturday October 27th Cy-Fair location (tba)
(times available: 4:00, 4:30, 5:00, 5:30, 6:00)
Saturday November 3rd (location tba)
(times available: 4:00, 4:30, 5:00, 5:30, 6:00)
Sunday November 4th (location tba)
(times available: 3:30, 4:00, 4:30, 5:00, 5:30)
To book your session, please log-in to our store and select 'The Shoppe' > 2012 Holiday Mini Sessions > and the Mini Session you'd like to purchase (choose which date you are interested in). In the notes section, please be sure to select which time you'd prefer (please understand that times are filled on first come/first serve basis. It's highly recommended that you list your top 3 time choices in this section as well. I will do my best to get you your time slot! ).