Archive for 'Mini Sessions'
Last year, I held my first annual GIVE Christmas event. We collected over 200 toys to give out to local children and families in need. I was so excited to see how open your hearts were for giving! It was amazing!
And this year, I am even more excited to see what will happen! You see, before you even see this, GIVING Christmas is already happening! Let me tell you how…
Last week I was talking to my friend Sherry. Sherry started a non-profit organization called Rescue Pink. A number of years ago, God placed it in Sherry's heart something so big and so scary but also something so rewarding. And he worked on her heart, little by little, carving and crafting and getting it ready and strong enough and brave enough to go out into the world and change it. Change it by rescuing little girls in India and changing the world one little person at a time. here's how:

So this year for my GIVE Christmas event, I'm holding mini-sessions where all proceeds go to Rescue Pink. And I am so excited that, because of the amazing community we have, I get to partner with a few other people to make it even bigger than I first thought! Take a look…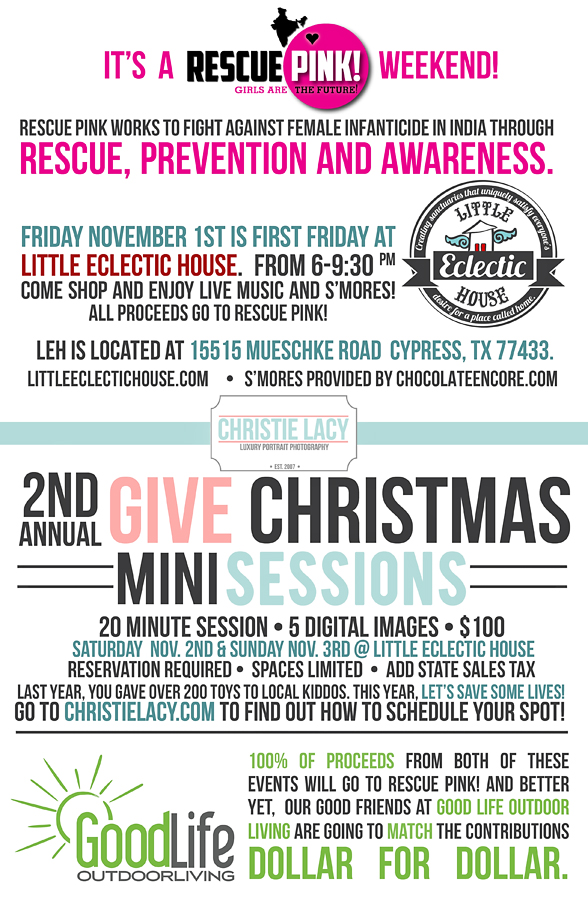 I am so excited about this event! If you haven't been over to Little Eclectic House yet, this will be the perfect opportunity! Shellie has some beautiful and hip blouses, dresses and other clothing pieces, lovely jewelry and a gorgeous array of antiques and home decor! All proceeds from her First Friday event (Friday November 1 from 6pm – 9:30pm) will go to Rescue pink.
And then you can come back on Saturday or Sunday for your Mini-Session! Now here's the fine print on these:
1 20 minute session for up to 5 people (babies must be 6 months or older)
includes 5 High Res Digital Images printable to 8×10 complete with a print release.
option to purchase additional images.
payment required to reserve your session.
session takes place at Little Eclectic House.
Must arrive no later than 5 minutes prior to session start time.
only 20 spots available at present time.
call (832) 671-0250 to set up your session and learn about available times.
Session Times available: November 2nd: 2:30, 2:55, 3:20, 3:45, 4:10, 4:35, 4:50, 5:15, 5:35, 6:00 November 3rd: 1:00, 1:35, 2:00, 2:30, 2:55, 3:20, 3:45, 4:10, 4:35, 4:50 Please call to ensure availability!
So, I thought it sounded pretty good that Shellie and I were doing this great event…But it got better, because the amazing guys over at Good Life Outdoor Living (who build the most amazing outdoor living spaces you'll ever see) offered to not only contribute, but match, dollar for dollar, every penny earned towards Rescue Pink. Amazing right? So excited to be able to serve with such great people.
This year, I hope you know that when you come to this GIVE Christmas event, you aren't just saving and changing one life, you never know how doing so will change the world!
Spring is near and I am so excited to get outside! What about you?
These are the only mini sessions I'll be holding this Spring, so get your spot while it's hot! Call the studio to book your appointment!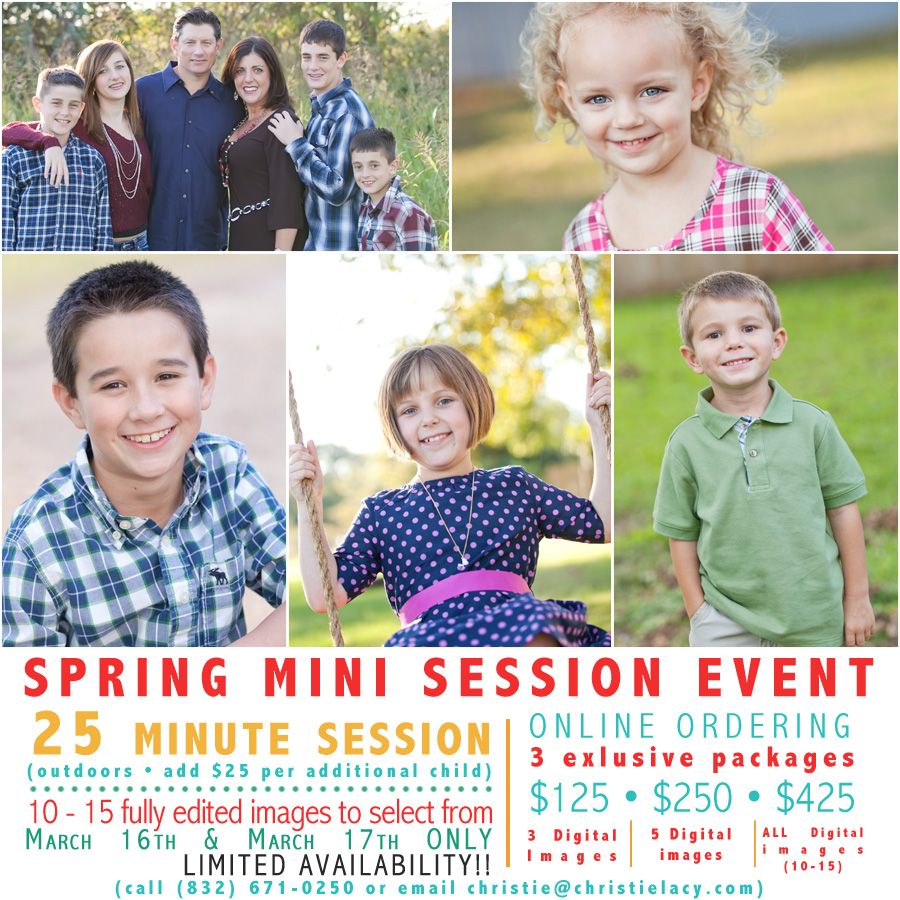 Super excited to share this special offer for you! Now through February 10th, I'm offering an exclusive mini session event at my photography studio here in Cypress! These Valentine's Mini Sessions will book fast, so grab yours while you can! Take a look below and call the studio at (832) 671-0250 or email me at christie@christielacy.com!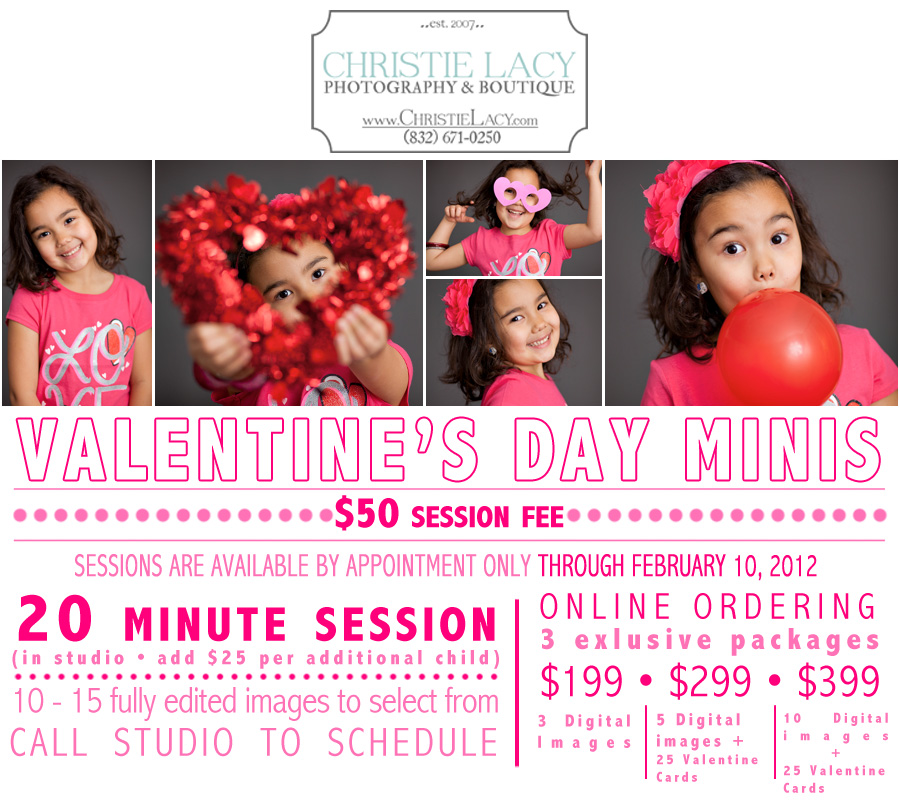 So very excited about this! My first in-studio mini sessions are now available by appointment! With 3 exclusive package options and a low session fee, there's sure to be an option for you to choose! Take a look at the infographic below and call the studio to reserve your appointment!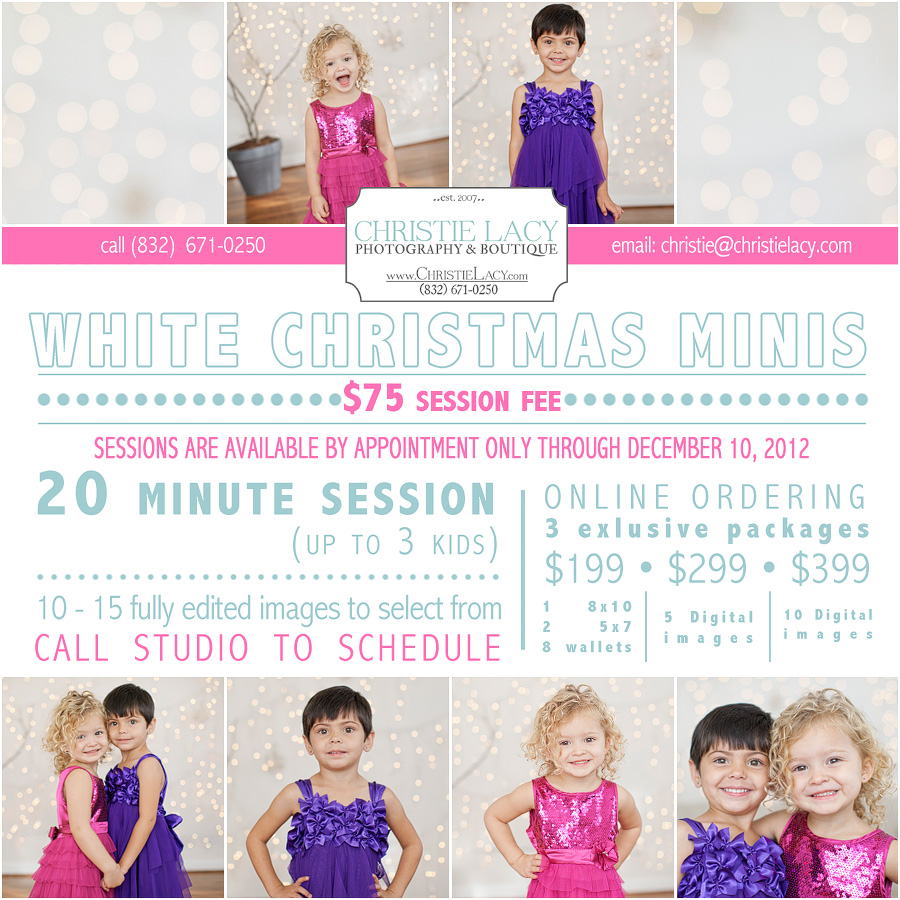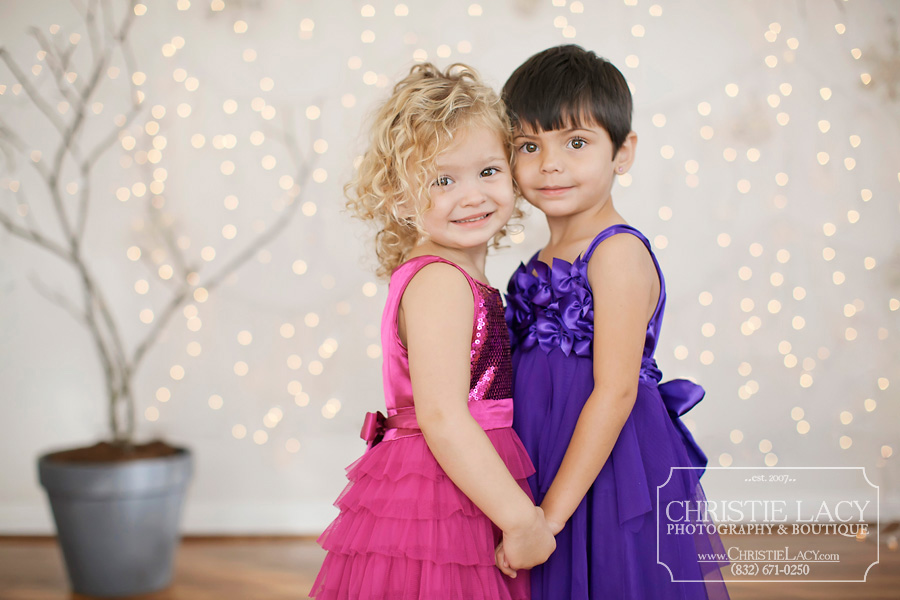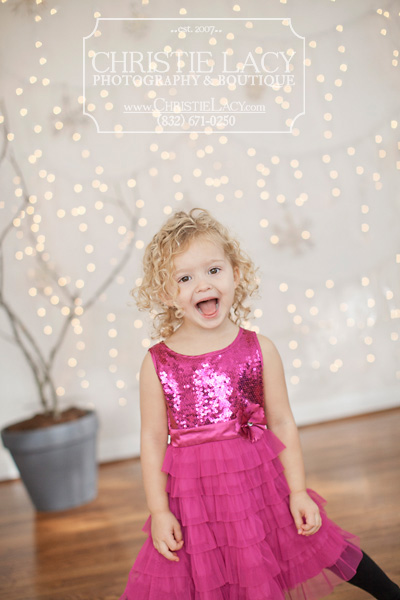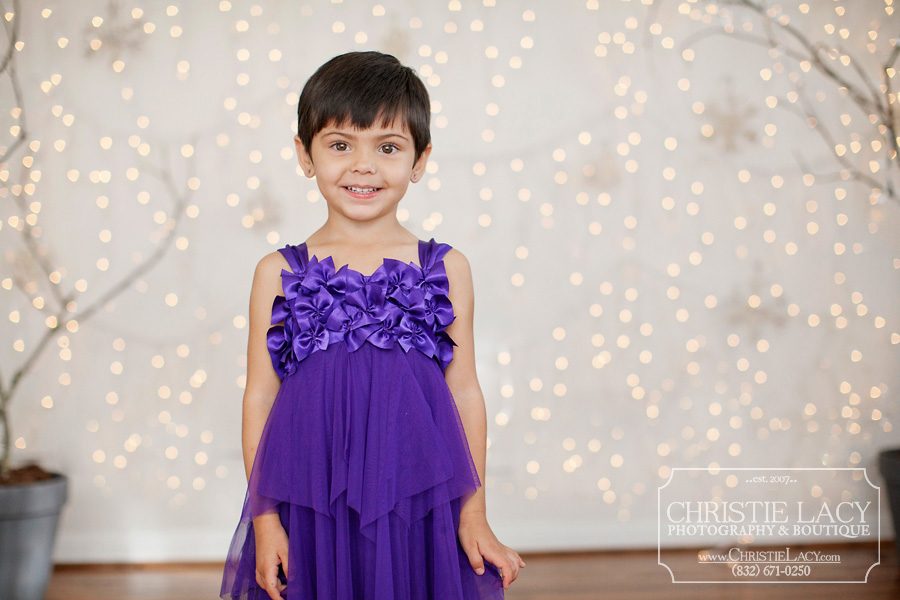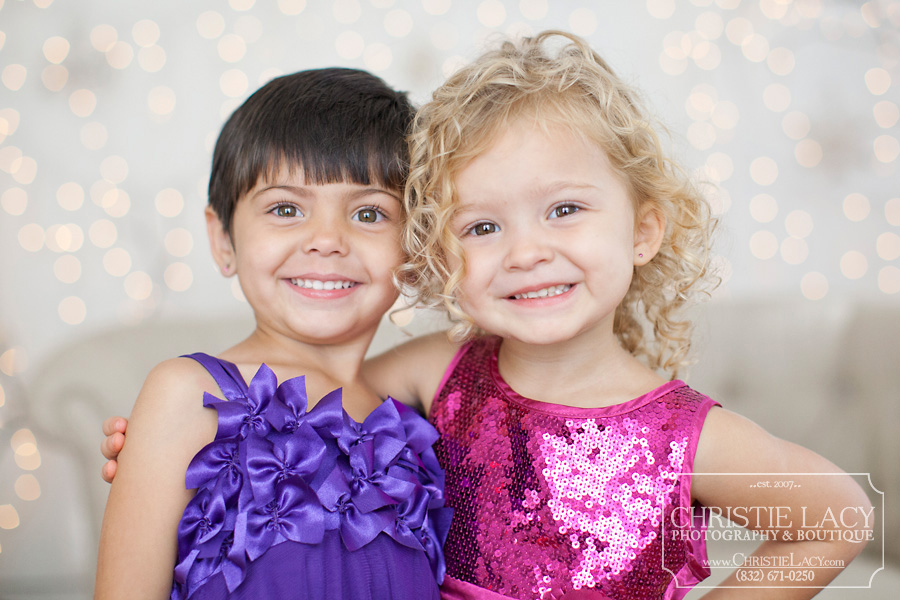 I can't believe there are only a few more weeks of summer left before school starts! Before you know it, we'll be welcoming in winter. As I've already booked all but two sessions in October, I thought I'd get my Sixth Annual Holiday Mini sessions out to you. When I started counting it up, I could hardly believe that so much time has gone by. 6 years of photographing your awesome families!
These Mini Sessions are such a great way to share and gift your family photos. I'm offering only digital images so that you can print as many as you like, share as many as you like, and showcase as many as you like in your homes. Add to that, I'll upload one of your images to my press printing affiliate where you'll be able to select from hundreds of amazing designs and top quality products.
So, here are the details: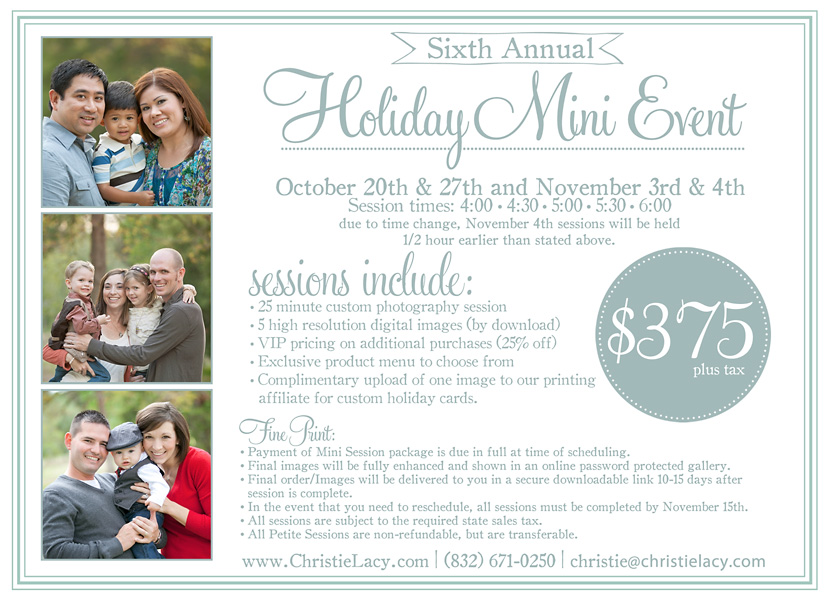 now, for the fine print:
Payment of Petite Session package is due in full at time of scheduling.
10 images will be fully enhanced and shown in an online, password protected gallery.
Final order/Images will be delivered to you in a secure downloadable link 10-15 days after session is complete.
In the event that you need to reschedule, all sessions must be completed by November 15th.
All sessions are subject to the required state sales tax.
All Petite Sessions are non-refundable, but are transferable.
Ready to sign up? the dates and times are available here!
Saturday October 20th Cypress location (tba)
(times available: 4:00, 4:30, 5:00, 5:30, 6:00)
Saturday October 27th Cy-Fair location (tba)
(times available: 4:00, 4:30, 5:00, 5:30, 6:00)
Saturday November 3rd (location tba)
(times available: 4:00, 4:30, 5:00, 5:30, 6:00)
Sunday November 4th (location tba)
(times available: 3:30, 4:00, 4:30, 5:00, 5:30)
To book your session, please log-in to our store and select 'The Shoppe' > 2012 Holiday Mini Sessions > and the Mini Session you'd like to purchase (choose which date you are interested in). In the notes section, please be sure to select which time you'd prefer (please understand that times are filled on first come/first serve basis. It's highly recommended that you list your top 3 time choices in this section as well. I will do my best to get you your time slot! ).