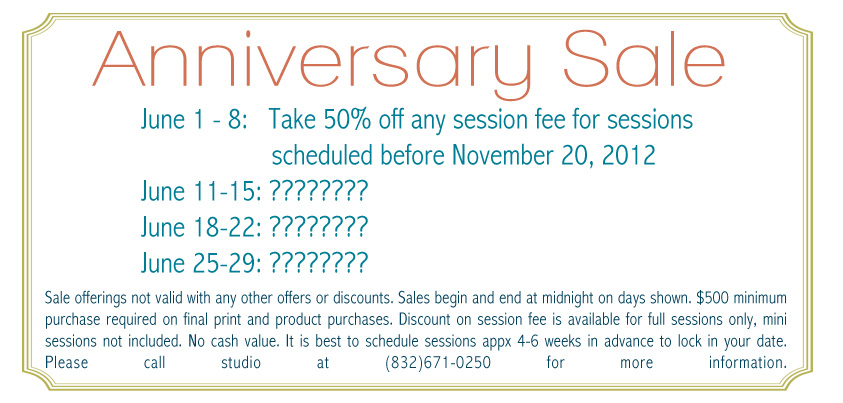 Okay, I alluded to it a week or so ago, but it's finally here! My Anniversary month! In June 2007, I began taking my very first clients. I can't tell you how it warms my heart that many of my first customers keep coming back. I get to watch your kiddos and families grow and it really is one of the best experiences of my life! Thank you for sharing your moments, your lives, your ups and your downs. When I took off last year to find where this photography thing fit in my life, I came to realize that it's not just the photography that I missed, I missed you. You have shaped me, grown me, and are very much a part of who I am today. Thank you for being there, for being patient, and for coming back. I have been so blessed by you and I hope you really truly know this!
It is with great joy and pride that I announce the next best thing for Christie Lacy Photography. This summer I open the doors to my full service photography boutique located in Cypress, TX. Here I can give you more of me, more of what you want to experience and more options for creating amazing works of art of your own people to display in your home. I will offer in-studio newborn and children's sessions, in-person purchasing appointments and a gallery of products for you to browse through and choose as your own. But these are not the only things I dream of! In the coming months I will be offering a variety of events for moms and for kids and hopefully like-minded photographers. You see, I don't want this place to be only mine. You are as much a part of it as I am. From craft days to networking evenings, I envision a place where you and I can come together as friends.
I am currently in the polishing stages of opening; purchasing furniture, hanging art, etc. Once the studio is ready for showing, I'll be sure to post your invitation to join me there! For now, I have a Grand Opening set for September (more info on that a bit later).
Ok, now back to the anniversary! I have some great things planned for the coming weeks of June! To start, I am offering 1/2 off Creative Session Fees. I have never ever done this before, but because this year and anniversary are so special to me, I thought it necessary to share more with you, and to offer super special things! A few important things to know about this offering:
Sessions must be scheduled at the time of payment. We can pick a date as far out as November, but we should get it on the books now. If we need to reschedule, we can do so up to 2 weeks prior to your session. This should allow flexibility for the both of us!

This sale starts June 1 at midnight and ends June 8th at midnight. There are more promotions coming, but sadly, they can't be combined. However, when you purchase your session fee, you will also be eligible to purchase the coming incentives at 50% off. 

A minimum order of $500 is required on all CLP print and product purchases.

No Cash Value.

Discount applicable to full sessions only, not valid for mini or promotion sessions.

Once you've decided on a date, you can reserve your spot by clicking here:

http://www.christielacyphotography.com/photocart/

•   You'll need to register for an account.

•   Once you do so, you will select The Shoppe which is located in the top right menu.

•   Select a Creative Fee based on your choice of date (regular or weekend)

•   Please note the top 3 dates you are interested in scheduling in the notes section when you are ready to check out, or feel free to call the studio for availability!


Please note that my schedule is filling fast, so if you're interested, please contact me for available dates as soon as possible!