Every year around this time, a little flutter stirs in my heart as we approach the season of Advent. It is a precious gift, a reminder to my spirit that waiting for the Lord is not a futile thing, but, as with all things, designed for His glory. To say that Advent is my favorite season would be an understatement, it is something I wish my heart could hold on to all year long. Advent stems from the Latin word adventus, meaning arrival or coming. Stories of waiting for the promised Arrival trace back thousands of years ago as God's people wandered and waited for His promise. And they waited for His coming for a very long time. Yet still, we continue to wait.
Over the years, our family Advent traditions have evolved as I try to instill the love and hope that Advent brings into the hearts of my children. I thought I would just write up a little post in hopes of encouraging tradition, togetherness and learning as a family about the Hope we have as we wait for Christmas.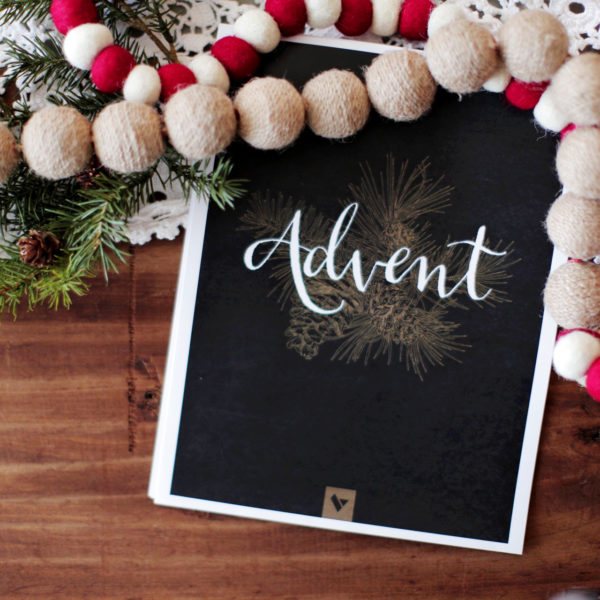 TVC Family Advent

For the last several years,

The Village Church has shared an Advent Guide

to help families set time aside to connect and slow down. It has been one of the best tools we've used! The last few years they have added songs and activities which are a wonderful source to share together. Conversations, readings, poems, and activities, this resource is a favorite for keeping Advent in our weekly discussions.
Shepherds Pouches

In an attempt to help my children grow more (spirit/heart/compassion/grace), a few years ago I adopted the tradition of Shepherds Pouches from

Noel Piper's book Treasuring God in Our Traditions

. In essence, on the day of celebrating His birth, what do we give to a King who has everything? Us. We give our best selves, we give our grace and love for each other, we give our kindness, we give compassion, we give our reconciliation, we give our sorrow for the wrongs we've made. When they were little, during the month of December, our kids received a coin or two for every gift of themselves which they offered to Jesus. Now that they are older and earning their own money, we have conversations of what it looks like to give financially and sacrificially. They aren't expected to always give a bunch, I'm more concerned on how they choose to give and why. We've adapted this over the years to include acts of service and/or prayer, which they can write down on a small paper and place in the pouch. On Christmas, we combine their collection and give as an offering at church. Not only does this tradition remind them to bring their best, but it helps me to be attentive to those bests, to be grateful for their bests, and to bring

my

best to Jesus also.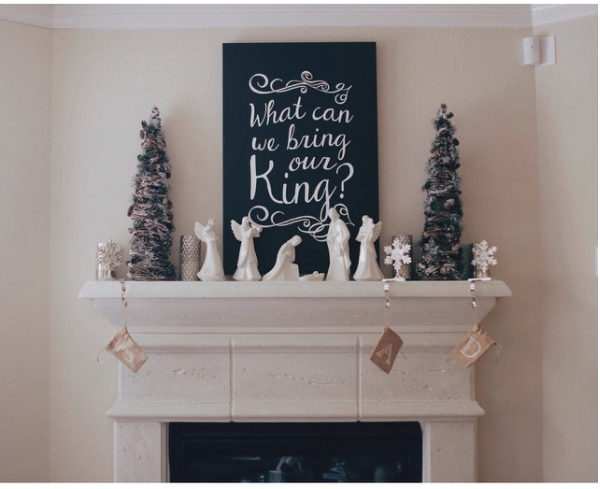 A Simple Advent Calendar
Sometimes this happens and sometimes it doesn't. Sometimes it looks fancy and sometimes it is just a sheet of paper with activities listed on it. Going with the theme of serving rather than receiving, many of these activities include activities that include others…Baking cookies for the firemen or our neighbors, taking up a neighbor's trash can, collecting items to donate to those in need. Of course, there is always a movie night, game night and hot cocoa in there somewhere. These activities are simple ways our family can connect during the craziness that always comes with the Christmas season. We are reminded in the giving that we are servants (How can we serve our King?).
Pinterest is full of these sorts of activities and displays! But please, do not get worked up over making some magnificent thing. It has always been inevitable that the tags or bags or cards get thrown around and we have to start over the following year.
Storytime
Evening read-aloud time has been a wonderful way to end our days. Though my kids are teenagers now, I can still beg them to sit and still themselves while they listen…yes, sometimes I do have to beg.
There are a number of books that we've used over the years, most importantly, the Bible! The narrative of the coming of Jesus in Luke is where we seem to sit. Though, in earlier years, it did have to be pared down for the kids to understand easier.
Other books we have loved are "Unwrapping the Greatest Gift" by Ann Voskamp. While these are newer to our family, we have enjoyed these Advent story books from Arnold Ytreeide.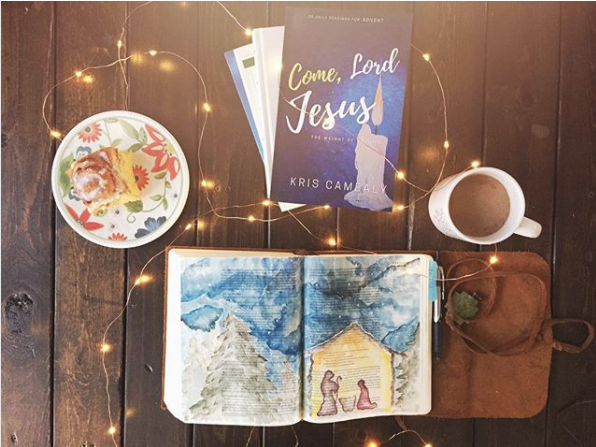 Personal Reading
Kris Camealy's 'Come, Lord Jesus' is a beautiful devotional for the waiting season. She offers scripture and thoughtful questions at the end of each day's reading.
Watch For the Light is a collection of writing from some of my favorite authors (Nouwen, L'Engle, Merton, Bonhoeffer and more).
New to me this year, and one I can't wait to begin, is Paul David Tripp's 'Come Let Us Adore Him'.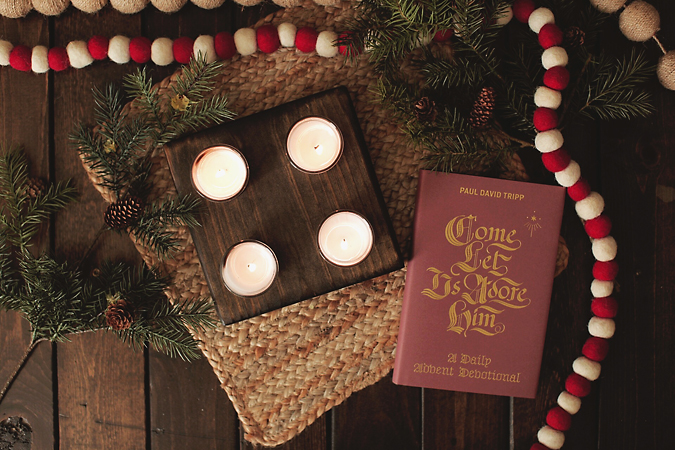 Playlists
These are a few Spotify playlists that fill our home during the month of December. Holy Christmas is filled with songs that posture our hearts toward reverence for the coming King and Christmas Worship is one that has an array of worshipful Christmas songs.
Modeling and teaching this as our family grows is something I don't always get right, but I do hope that the kids see the fruit of when we do get it right. Though I find value in these writings and tools and resources, I know the best places to be is sitting in the Word, chewing, pondering and questioning every small and big story written there, digging deeper and sitting in the hope of our Savior.
Do you have any Advent traditions that you implement during this season? What does it look like for you and your family? I love learning about different hearts and traditions, please feel free to share if you feel led!